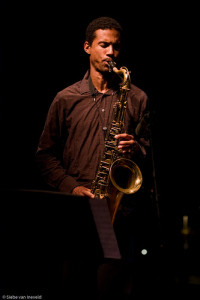 Preface:  The following list represents a group of today's amazing jazz saxophonists. This is by no means the gold standard, it's entirely my opinion, and the exact rank order should be taken with an extra-large grain of chunky sea salt; it's just a guide. There may be 50 other guys who I've never heard or I've inadvertently omitted who are equally deserving of praise. Regardless, you should still check these fine players out.
The aim is to provide a window into some of the top guys on the scene today. 
Sorry, no Charlie Parker here. This is meant to be representative of how each musician is currently playing, which means every individual is living and making incredible music.
Hopefully this helps you discover new artists. If any one of these guys is playing near you, please go check them out!
Mark Turner

Seems like every saxophone player today wants to sound like Mark Turner. But who can blame them? With a beautiful sound, mastery of the altissimo, and a full and warm tone that's consistent throughout the horn, the guy is a gentle giant. In his latest release, Lathe of Heaven, Mark explores new ways of writing for 2 horns and creates a dark, intriguing aura that, after a short period of adjustment, is a delight to listen to. He's moving the music forward.

Seamus Blake

Like Tuner, Seamus has a lot of idols. He seems to play as if singing through his horn, soaring through altissimo lines with the same ease that he wails through a funky or bluesy riff.

Walter Smith III

A supremely stylized improviser, Walter develops ideas and explores harmony in a fascinating way.

Ben Wendel

Ben has his own thing going on, and it's a pleasure to hear. Like Cannonball Adderley did before him, Ben plays with such conviction that he's able to mold he harmony to fit whatever insane line he's concocted. He's also incorporated extended sax techniques in a very musical manner. Thanks, Ben. I'll be checking him out tomorrow night at the Blue Whale when I touch down in L.A., come join me if you're in town!

Chris Potter

Potter is truly a saxophonic beast. A master of the saxophone craft, his fluidity across ideas and lines is breathtaking. As a stylist, Potter has blended funk and bop in a manner unseen since the days of Michael Brecker.

---

---

…

Donny McCaslin

A technical beast, Donny is able to get around the horn as well as anybody on the scene today. His latest writing is compositionally forward-thinking and has some great moments.

Will Vinson

Super under-rated, super saxophonist. I think he's from London originally but now resides in NYC. With a beautiful, warm sound and sense of harmony, this guy really plays the alto!

Joshua Redman

I just recently saw Redman live, and I was again blown away. His sound has gone from full to slightly brittle over the last 15 or so years, but Josh will still develop ideas, squawk all over the axe, and pay homage to the history of the saxophone better than most anybody in the business. See Yaya3 to hear what I deem his best work ever.

Ravi Coltrane

Blah blah shadow of this dad (John Coltrane) blah. Ravi can PLAY. He's got his own thing going on, and it comes to you with a complimentary side of buttery rich tone an pointed rhythmic angularity.

John Ellis

New Orleans sings through his essence, but Ellis is so much more. An abundance of soul comes through this guy's horn.

Joel Frahm

Joel is somewhat underrated, but he's a true master of the saxophone. I think of him as a more articulate, modern day Hank Mobley. He plays what you want to hear and then surprises you with perfectly packaged little nuggets of harmonic gold.

David Binney

Great saxophone player with an interesting, angular take on modern jazz.

David Sanchez

Extending his reach beyond his Puerto Rican roots, David [Dah-vEEd] has evolved into a rhythmically compelling improviser with one of the most succulent tones on the scene.

Rich Perry

Rich plays what he hears, plain and simple. And it's a joy to see his imagination unfold.

Ralph Bowen

You might not be quite as hip to Ralph's stuff as some of these other guys, but despite his post-Coltrane/Brecker tendencies, and despite the fact that he is completely still when he plays the horn, Ralph will blow your mind with his accuracy, harmonic vision, and ability to build a beautiful, exhilarating solo. Please, please check out this clip of Ralph building a stupidly good solo over a fast minor tune on Chicago pianist Jim Trompeter's "Live at the Green Mill" (solo starts at 1:43).

https://thewoodshedmusic.com/wp-content/uploads/2015/01/08-Soul-Proprietor.mp3

Chad Lefkowitz-Brown

Who's this youngster? Wait, is that the guy backing Taylor Swift? Yes. And Chad is the real deal. Check out Clarence Penn's "Monk: the Lost Files," and you'll see for yourself. He's definitely influenced by the likes of Donny McCaslin and Brecker, but he carries a heavy dose of Lefkowitz-Brown as well. Look out for this guy.

Tony Malaby

Tony is one of the most intuitive and adaptable musicians playing jazz today. Also one of the most chill.

Wayne Shorter

Wayne had to make this list, lest I live in constant fear for my saxophonic credibility. But he's undoubtedly one of the best bandleaders today. Wayne's gone just a bit beyond my comfort zone for tonal expansion at this point in his career, but if you can catch him live there are still moments of pure, mind-blowing Wayne.

Steve Coleman

He's thinking about how to move the music forward, and for that we are grateful.

Geof Bradfield

Hailing from Chicago, Geof means business. At home in any context, from throwback to forward-looking, Bradfield displays supreme control, effortlessly soaring through the harmonic landscape throughout.

Casey Benjamin

Robert Glasper's man is more than a vocoder. Casey gets down on some saxo-mo-phone.

Miguel Zenon

Apparently Miguel is a genius. The MacArthur grant definitely gave his popularity a bump, but he's got a fantastic sense of rhythm, fast fingers, and a gorgeous sound to boot.

Bill McHenry

Bill has a sensibility that allows him to roam in both straight-ahead and farther-reaching scenarios.

Josh Johnson

This soon to be well-know recent grad of the Monk Institute plays so mush alto saxophone and with such grace.

Logan Richardson

Up and coming, I love what I've heard from him and need to dig into his stuff more.

Brice Winston

Terrence Blanchard has had this guy locked up for some time, but Brice is starting to spread his wings as of late: check out Child's Play.

Branford Marsalis

I do love his Requiem late 90's sound the best, but Branford still brings it.

Bob Mintzer

Bob doesn't get nearly enough credit for developing the round tone and softer approach championed by so many of today's saxophonists. And he can still burn through some mean post bop.

Dayna Stephens

Digging what Dayna has been throwing out recently.

Kenny Garrett

Ok, I'll say it, Kenny used to be one of my absolute idols. Since the Pharoah Sanders era he's let me down just a bit, as his albums sound relatively uninspired compared to the rhythmic and sonic beastliness he demonstrated on albums like Triology and Songbook. Real shame, since he's an unbelievably gifted musician.

Marcus Strickland

Check out Marcus' playing back Tain's "Detained" back in 2004 and you'll see why people were talking big talk about where Strickland was headed.

Joe Lovano

He's Joe Lovano.

Jerry Bergonzi

Boston's heavyweight king of muscular saxophone prowess.

Lee Konitz

One of the few true improvisers and still going strong into his late 80s! For a great read check out Dan Tepfer's interview with him.

Tivon Pennicott

Tivon is going places. Huge yet sweet sound, harmonic discipline, and impeccable time.

John Wojciechowski

He goes by Wojo, and he's got one of the most natural approaches to the saxophone you'll ever hear.

Greg Ward

NYC via Chicago, Greg has a great feel for the horn and is equally mind blowing in straight ahead and more "out" contexts.

Bob Reynolds

John Mayer's sax-man really has it together.

John Irabagon

Great technique and use of all colors/extensions of the horn.

Bunky Green

A living legend residing in Jacksonville, FL, Bunky was a huge influence on the likes of Steve Coleman and continues to go for it on a very high level, even as he goes on 80!

David Liebman

Loving him all the way back to his Live at the Lighthouse stuff, Liebman still channels Coltrane like no other.

Melissa Aldana

Recent Monk Competition winner with a great touch on the horn; strongly influenced by Mark Tuner, Joe Lovano, and her own past.

Alex LoRe

Restraint and pensiveness. A compadre of Lee Konitz, Lore has all the chops that he'll only use when necessary.

Dustin Laruenzi

An up and comer in the Chicago scene, Lorenzi is a modern voice and a quiet storm.

Rudresh Mahanthappa

Known for his work with Vijay Iyer, Rudresh packs a highly aggressive tone with quick fingers, making for a unique sound.

George Garzone

Seems like every strong sax player coming on the scene these days has spent some time studying with Garzone, who still has some tricks up his own sleeve.

Dick Oatts

Beautiful feel, and he plays what's on his mind. One of the pioneers of the modern alto sound.

Steve Lehman

We're in the 21st century. Is Steve Lehman already in the 22nd century or stuck in some ripple off the more tonally averse classical composers of 20th century? I honestly have no clue.

Ben Van Gelder

Original, stark, and compelling, BVG is doing his thing and doing it right.

Chris Cheek

Harmonically engaging, rich sound, beautifully experimental.