Bebop Drum Solos
One of the challenges in teaching jazz drumset to younger musicians is connecting the dots between their existing physical technique and a stylistic concept of what it means to play jazz/bebop vocabulary.  John Riley has authored three incredible books: The Art of Bop Drumming, Beyond Bop Drumming, and The Jazz Drummer's Workshop; all of which prove helpful to students over the course of their development.
It also goes without saying that listening to jazz music (or any style of music one is attempting to master) is first and foremost the most vital learning tool.  A particular strategy that I have utilized more often in recent years is composing short exercises to introduce classic bebop drum vocabulary.  Many of these phrases are common, and are reminiscent of Max Roach or Roy Haynes.  That being said, they feel fresh and exciting for a young drummer only beginning to build a toolkit of jazz phrasing/vocabulary.
Below are three distinct 12-bar drumset solos.  The first deals only in eighth-note subdivisions.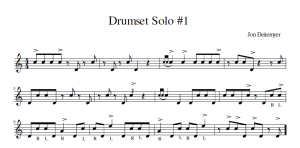 The second introduces eighth-note triplets.
The third solos introduces sixteenth-notes, and moves between subdivisions ala Elvin Jones.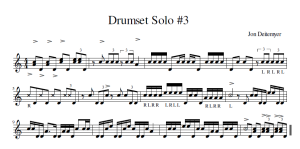 Once a student has learned these short solos, I find it helpful to break them into four-bar phrases to practice trading with timekeeping.  I also have students compose their own short solos as a bridge between reading and improvising.  Finally, we practice improvising over short forms with the added confidence/awareness of possessing an authentic vocabulary around the drums.
Here are the downloadable PDF files: