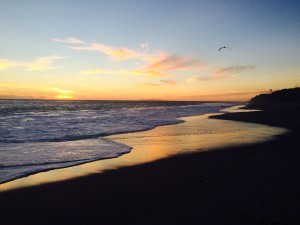 After 5 action-packed days in Los Angeles, I'm rejuvenated. Yes the beaches were amazing, the sunsets made for beautiful sky porn* (like this shot I took after almost running out of gas just north of Malibu), and the sushi was scrumptious. But even better was the music. All three shows I checked out while visiting were inspiring, so I thought I'd share some crappy iPhone recordings I took.
Ben Wendel Quartet
In case you haven't noticed, I'm pretty much in love with pretty much anything Ben Wendel. Pretty much. But I had the privilege of hearing him with Eric Harland, Taylor Eigsti, and Harish Raghavan at the Blue Whale. Ben's compositions and playing were tasty, Eric Harland and Taylor Eigsti obviously blew me away, but I was most taken by how elegantly Harish was able to hold everything down on bass.
To top it off, I just came across this great clip of Ben's latest duo project. Thanks Dustin Lorenzi for passing it along!
Jeff Parker w. Eric Revis
You may know Jeff's playing from his days in Tortoise, or from his many years working as one of Chicago's most versatile guitarists. He now lives in LA, and I saw him play a set of improvised soul music with Eric Revis and a drummer (whose name escapes me). The set went seamlessly from soulful to swinging, free to soulful.
Kendall Moore Octet
Another Chicago native, Kendall Moore, put together easily one of the most bad ass octets I've come across. Bob Reynolds, Marquis Hill, Josh Johnson, Jeff Parker, Miro Sprague, Christian Euman, & Jonathan Richards. Wow. Kendall's writing/arranging is breathtaking, simultaneously simplistic and complex.
Check out his release Focus, featuring lots of the stuff I wasn't able to capture above. Great album!
---
*terminology courtesy of Brandon Rifkin