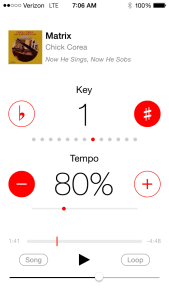 In the past, I've used various pieces of software to alter the tempos and keys of recordings. Whether I want to slow something down to more easily transcribe a passage, or work on playing in different keys, the process involves (1) uploading said track so some program (i.e. Audacity, SlowGold, etc.), (2) finding the right combination of transformation buried in the dropdown menus, and (3) then waiting for the track to process. Plus, I need to be in front of my computer.
Enter Highnote. It's an iPhone app that allows you to take any track that's on your phone's iTunes, and in a single tap, change the key, tempo, or any combination of the two. Similar to my previous post covering 3 groove and intonation focused apps, this is a hyper-focused app with a focus on clean and effective execution. Want to play over giant steps along with Coltrane, but up a half step? No problem! Need to slow that down a bit to get the hang of it? Done!
Although $4.99 is app-expensive, you're going to get so much more out of this than the $5 stomach ache you earned from the Venti Skinny Double Cinnamon Dolce Latte you ordered this morning. Gross.
I love to play along with my favorite recordings. It's not only fun, but also beneficial. Your improvisation, melodic phrasing, and feel are all being influenced by your favorite musicians—a bit of jazz osmosis. Here's a clip of me taking Highnote for a spin, playing over Autumn Leaves off one of my absolute all time favorite recordings, Cannonball Adderley's Somethin' Else. I start a 1/2 step up from the original, and as you can see, changes to key and tempo happen on the fly and instantly, allowing you to keep working over the tune without losing a step. Happy shedding!