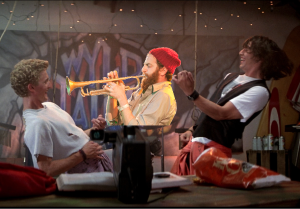 Correction: The names of Jim Rotondi, Bert Joris, and Jonathan Finlayson were previously misspelled and have been corrected below. Sincere apologies for the lack of proofreading, we still love your playing!
---
This week, trumpeter Chad McCullough joins me for The Woodshed's first ever jazz fantasy draft. After the interest I received in a previous post, 50 Living Sax Players You Need to Check Out. Right Now., I knew Chad was the perfect companion to help me follow up, hipping you to a more stylistically and geographically diverse set of trumpeters than I could possibly concoct on my own.
Chad's a wonderful trumpet player; look out for his upcoming Origin release with Belgian pianist Bram Weijters:
Chad and I sat down last night and geeked out for a few hours, taking turns picking our trumpet idols off the top of our heads and sharing YouTube clips until we came up with 50 names.
Preface:  
The following list represents a group of today's amazing jazz trumpet players. This is by no means the gold standard, it's entirely our respective opinions, and the exact rank order should be taken with an extra-large grain of chunky sea salt; it's just a guide. There may be 50 other guys who we've never heard or have inadvertently omitted who are equally deserving of praise. Regardless, you should still check these fine players out.
The aim is to provide a window into some of the top guys on the scene today. 
Sorry, no Miles Davis here. This is meant to be representative of how each musician is currently playing, which means every individual is living and making incredible music.
Hopefully this helps you discover new artists. If any one of these guys is playing near you, please go check them out!
Top 50 Trumpeters
1. Avishai Cohen
[Chad] Melodically, trumpet-ly, so much tradition. He's both rooted and forward-looking at the same time.
2. Ambrose Akinmusire
[Mike] With acrobatic technique and adventurous intervallic shapes, Ambrose explores a fresh and open harmonic approach. He also happens to be a great writer and bandleader.
3. Eddie Henderson
[Chad] I've never heard a trumpet player more in control of a band when he played. Check out The Cookers band with Cecil McBee and Billy Hart.
4. Wynton Marsalis
[Mike] Nobody plays the trumpet as well as Wynton. He's perfect. I still love his stuff from the 80s the most, as modern and forward-thinking as anything coming out today.
5. Dave Douglas
[Chad] Tireless work ethic over so many years, epic creative output – so thought out and so well done. Dave has also been a great mentor to so many people, including myself.
6. John Swana
[Mike] Slight caveat – John now only plays the EVI due to jaw tumor/growth. But I'm so glad his genius is not lost on this alternate instrument. John plays so much harmony it's borderline absurd.
7. Charles Tolliver
[Chad] Most Coltrane-esque of all trumpet players in band concept and in his playing. Really deep.
8. Nicholas Payton
[Mike] Just go check out Fingerpainting, where his control over bop and time is insane. I don't know what to make of his BAM preaching, but he can still play the pants off the trumpet.
9. Terence Blanchard
[Chad] I love the sheer power and cinematic quality of his writing and his improvising. Iconic, personal sound.
10. Tom Harrell
[Mike] His sound isn't quite what it once was, but his music is oh so compelling and probably more inspired than ever.
11. Tim Hagans
[Chad] Tim exudes harmonic unpredictability, fearlessness, and sheer trumpet power. He spent a long time over in Europe doing one of the state sponsored big band things. Tim's a great writer as well, and he was really pushing the envelope in the 90s.
12. Scott Wendholdt
[Mike] Modern bop slayer, Scott is a treat to hear in a small group setting.
13. Cuong Vu
[Chad] Gained wide popularity for his work with Metheny. Really deep musician, great trumpet player and improviser.
14. Michael Rodriguez
[Mike] Great time and feel, Mike bridges the bop tradition and more contemporary approach to composition, harmony, and improvisation in an elegant and fascinating manner.
15. Jay Thomas
[Chad] A fellow Seattle native, Jay was really important to me growing up.  He's also a fantastic saxophone player. Perfect time, perfect lines.
16. Marquis Hill
[Mike] With such an advanced stylistic concept of his very own, Chicago's trumpet sensation and recent winner of the Monk competition is rhythmically compelling, an adventurous composer, and one of the most humble guys you'll ever hang with. Check out this bootleg I took a few months back.
17. Ralph Alessi
[Chad] Ralph is a fearless improviser and great bandleader. One of the best live concerts I've ever seen.
18. Russell Gunn
[Mike] Please go check out his "krunk jazz" album Bionic, such an incredible blend of dirty Hotlanta rap and post bop. Here's a clip of him live with the Robert Glasper Experiment:
19. Jonathan Finlayson
[Chad] Thoughtful. Smart. Relaxed. Creative. Steve Coleman's guy.
20. Terrell Stafford
[Mike] Very true to the tradition, plays the heck out of the horn.
21. Claudio Roditi
[Chad] With better time than anyone, Claudio still plays at as high a level as ever. Every time I hear him he's better than the last.
22. Ryan Kisor
[Mike] Freakishly good trumpet technician.
23. David Smith
[Chad] Great New York trumpet player and a super bad dude. He also loves coffee & photography (+1000 Chad points).
24. Sean Jones
[Mike] I really like Sean's overall concept and approach to the music.
25. Jeremy Pelt
[Chad] A direct descendent of the Freddy/Woody lineage, Pelt plays a lot of trumpet,
26. Brian Lynch
[Mike] Fantastic time, he doesn't play anything by mistake.
27. Russ Johnson
[Chad] The hidden gem of the Midwest. Somebody who's been extremely influential and just cool over the last 15 years of my life.
28. Christian Scott
[Mike] I like his writing, his concept, and his band.
29. Greg Gisbert
[Chad] Known mostly for playing with Maria Schneider's group, he has incredible command of the instrument and the flexibility to play lead, jazz, or whatever he wants.
30. Joe Magnarelli
[Mike] I appreciate the way Joe plays with a group, makes everything and everybody feel good.
31. Tomasz Stanko
[Chad] A Polish trumpeter who had to reinvent himself after losing his teeth, Stanko's stuff in the 60-70s was very forward-looking. His more modern work is incredibly cinematic and he still has a beautiful sound.
32. Randy Brecker
[Mike] Still super happening, but I love some of the those solos he took on the Brek Bro's albums, especially Heavy Metal Bebop.
33. Nils Petter Molvaer
[Chad] Norwegian rock star! Plays some very cool ECM rock and his sonic pallet is vast.
34. Arturo Sandoval
[Mike] The guy is a freak of trumpet nature. (Chad's note – also an incredible piano player!).
35. Roy Hargrove
[Chad] His time feel is instantly recognizable, and I could listen to him play ballads all night. So musical and unique. (Mike's note – his D'Angelo horn arrangements = so tasty!).
36. Alex Sipiagin
[Mike] Great modern conception.
37. Wadada Leo Smith
[Chad] Remember his playing at the Chicago jazz festival last year? He was playing his ass of all night long! So powerful, channeling some classic Miles. Such a long legacy and is still playing at such a high level.
38. Adam O'Farrill
[Mike] So much harmonic control with tons of history in his playing (and blood). This is a young guy you should really be watching out for.
39. Eric Vloeimans
[Chad] From Rotterdam, Netherlands, Eric is really melodic, unique, and has a beautiful sound.
40. Takuya Kuroda
[Mike] Heavily influenced by the soulful stylings of Roy Hargrove, but I've been digging the hell out of his album Rising Son.
41. Ron Horton
[Chad] For his work with Ben Allison. He's not trying to do anything other than play himself – pretty deep.
42. Tito Carrillo
[Mike] Not because I spent a number of months studying with him, but because Tito has really got it all together.
43. Enrico Rava
[Chad] On a lot of ECM stuff, out of the European creative tradition. Great sound.
44. Jim Rotondi
[Mike] Impossibly clean, great bop lines.
45. Ron Miles
[Chad] Super creative, everything he does with Frisell is great.
46. Victor Garcia
[Mike] Another impeccably articulate and clean trumpet player from Chicago, Victor is extremely powerful.
47. Thomas Marriott
[Chad] He's the catalyst for why I play the trumpet, I heard him when I was young and went "whoa." Incredible human and great trumpet player.
48. Ingrid Jensen
[Mike] She says some really, really cool harmonic stuff.
49. Bert Joris
[Chad] Belgian. Incredible arranger and writer, baaaad trumpet player with a fantastic sound and concept.
50. Shane Endsley
[Mike] Kneebody! Kneebody!
Other guys you just NEED to check out:
Just because we didn't pick them today doesn't mean we wouldn't pick them tomorrow! There's so much trumpet talent out there. In no particular order, here is a list of but a few other players we love, which is by NO means meant to be comprehensive.
Marcus Printup
Terumasa Hino
John D'earth
Philip Dizack
Theo Croker
Wallace Roney
John Faddis
Chris Lawrence
Maurice Brown
James Davis
Keyon Harris
Taylor Ho Bynum
Brad Goode
Clay Jenkins
Greg Duncan
Ron Stout
Brad Turner
Paolo Fresu
Stéphane Belmundo
John Hassell
Arve Henrikson
Josh Berman
Nadja Noordhuis
Victor Haskins
Paul Tynan
Bobby Shew
Carl Saunders
Nathan Eklund
Valery Ponomarev
Steven Bernstein
Ian Torres
Eivind Lønning
Ray Vega
Mathias Eick
Aaron Shragge
Jerry Gonzalez
Stephanie Richards
Michael Phillip Mossman
Tanya Darby
Frank Greene