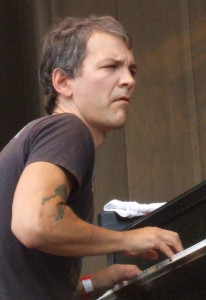 Adding to my previous top 50 sax and trumpet player posts, I think it's time to show the piano, keyboard, and organ some love.
Looking for an answer to something like this? "I love Bill Evans, Monk, and Keith Jarrett. But I don't even know where to start with most of these modern guys." Well, here's a list of contemporary pianists that will get you off on the right foot. I recommend starting at the top and working your way down.
---
Preface
The following lists represent a group of amazing jazz musicians.
This is entirely my opinion. If you know jazz, you probably disagree with me.
In fact, I would hope you disagree and have an opinion of your own. Jazz is an inherently subjective matter. Creating a finite list and then applying a rank-order to anything this personal is an absurdly biased exercise. Thus, this is by no means the gold standard, nor is it a survey or peer reviewed study, and the exact rank order should be taken with a humongous grain of earthy salt scraped from the bed of the Dead Sea.
It is meant to be representative of how each musician is currently playing, which means every individual is not only living BUT ALSO still making incredible music. Hopefully this helps you discover new artists who you will be glad you checked out.
---
Top 50 Pianists
Brad Mehldau

While his recent Mehliana collaboration with freakishly accurate drummer Mark Giulana is a bit of a detour into electronica, Brad is a harmonic genius and technical master. He has refined what Keith Jarrett and others have laid out before him to set the standard for modern jazz piano.

Robert Glasper

Glasper's follow-up to the highly successful BR1 with his Robert Glasper Experiment (winner of 2013 Grammy for best R&B Album), Black Radio 2 showcases more of the jazz/R&B crossover sound that has extended Glasper's notoriety far beyond the jazz community. But I'm also excited to know that his next release will put him back in a jazz piano trio format. Beyond his success, Glasper has developed a gospel-rooted harmonic language that is quickly becoming part of the jazz idiom.

https://www.youtube.com/watch?v=kScYtiy4PEs

Gerald Clayton

An evocative composer and true improviser, the Gerald Clayton trio's live performances feature some of the most conversational, spontaneous, and sensitive music around. As a composer and an improviser, Gerald creates music with character and color.

Danilo Perez

Danilo is one of the most dynamic, exuberant, and interactive pianists on the scene today. In addition to catching him in Wayne Shorter's group at any chance you get, you should really also check out his trio live. Few people have me walking away from a show feeling more inspired.

Tigran Hamasyan

I discussed Tigran's new album in my last post, but it's worth reiterating that he continues to push beyond the boundaries what many would consider jazz. This Armenian winner of the Monk piano competition is a true prodigy. His technical prowess and rhythmic mastery continue to amaze me. But beyond technique, he composes and executes with such grace that it almost makes you forget how mind-blowing his stuff really is.

Aaron Parks

Aaron is another pianist-composer who has developed a sound universe that only he lives within. In addition to having a unique voice as a writer and improviser, Parks is a talented role player in many bands, always comping and acting as a rhythm player in an additive and thoughtful manner.

Sam Yahel

Yahel is perhaps best known for his organ backing of Joshua Redman's work, but he also has a studied touch on the acoustic piano. I love how Sam is able to develop lines, work with rhythmic motives, and play inside the pocket.

Keith Jarrett

Even the most casual jazz listeners have typically come across this household name, and with good reason. Keith Jarrett's output of material over the last nearly 50 years has been instrumental in molding the piano, and particularly the piano trio, into is current form.

Aaron Goldberg

If you follow this blog you may have picked up that I'm a big fan of Aaron Goldberg's playing.  This Harvard grad is a modern day master of post bop. His rhythmic and harmonic conception is impressively clear.

Herbie Hancock

The man is a living legend.

Ethan Iverson

The piano engine behind The Bad Plus, Ethan is also a true scholar of jazz history (just check out his blog). And it shows in his playing. His whimsical approach is profound in any context, from straight-ahead, to free, to rock. Sometimes all in the same tune:

Taylor Eigsti

Taylor builds long and flowing lines with a sensitive touch and razor-sharp technique.

Jason Moran

Moran's style is eclectic. One minute he's nostalgically boogie-woogie, then suddenly Moran will transplant the listener to a place far more distant, impressionistic, and unquestionably modern.

Edward Simon

The Venezuela-born pianist effortlessly glides across the piano.

Chick Corea

Chick is a stylist and early pioneer of the post-bop in/out approach. He's still got quite a bit left in the tank as a player, but Corea's 1968 release Now He Sings, Now He Sobs is a lasting inspiration for me.

Jason Lindner

Honestly I've just really been digging Now vs Now recently. Lindner isn't just playing with electronic toys, he's got a deep knowledge of his impressive setup that allows him to build a vast soundscape.

Kevin Hays

I was first exposed to Hays from his playing with Chris Potter, and I can't get enough of his use of the rhodes.

Fred Hersch

Hersh is a pianistic Yoda, with a sensitive Bill Evans-like feel and thoughtful harmonic palate. He's evolved and adapted over time in an admirable manner; check out this throw back from 35 years ago:

Luis Perdomo

I first heard Perdomo as a sideman in David Sanchez's quartet and was floored. In addition to having his own voice, Luis has digested all the things I love about Danilo Perez, Kenny Kirkland, Herbie, and Chick.

Craig Taborn

Yet another gifted and versatile rhodes master that Chris Potter's groups hipped me to (I'm guilty of being sax player), Taborn can hold down a funky left-hand groove as well as he can sit at an acoustic piano and paint with intangible, improvised strokes of delight.

Gonzalo Rubalcaba

I haven't heard much from Gonzalo in the past few years, but this Cuban-born pianist is seriously musical.

David Kikoski

I'm most familiar with Kikoski's long list of sideman credits, brilliantly supporting so many of my favorite horn players over the years. He's a fantastic comper and improviser.

Gary Versace

Versace plays the heck out of the B3 organ and has led and supported so many interest projects over the past decade or so.

David Virelles

Virelles has been popping up on all sorts of hip projects recently, and his latest release Mboko is a treat to listen to.

Geoffrey Keezer

Since his days playing in Blakey Messengers at age 18, Keezer plays with impressive technique and harmonic control.

Fabian Almazan

Most notably Terence Blanchard's current pianist of choice, Fabian is also establishing himself as a strong and sensitive writer and bandleader with his Rhizome project featuring string quartet.

George Colligan

A great post-bop pianist based in Portland, George has released an impressive number of solid albums over the years.

Bill Carrothers

Based in the booming jazz mecca of Michigan's UP, Carrothers is a bit remote and hard to catch live. But if you do get the chance to do so, Bill's playing is passionate and powerful. He's also got one of the sharpest websites in the business.

Larry Goldings

I've been in love with Larry's playing since I first heard Brecker's Time is of the Essence. Goldings' collaborations with Peter Bernstein and Bill Stewart continue to produce some extremely tasty music.

Bill Charlap

Bill is a fantastic straight-ahead interpreter who digs deep into the rich history of jazz music and brings it new life.

Peter Martin

Martin is probably best known for his work in Wynton's band, but so many other great bandleaders have taken advantage of his versatile approach, and Peter always delivers.

David Hazeltine

Another gifted post-bop pianist and in-demand NYC-based musician.

Vijay Iyer

Vijay is an extremely intellectual composer and powerfully rhythmic pianist.

Hal Galper

A strong hard bop player who has been around for many years and played with countless legends, Hal is still making music on a very high level.

Frank Kimbrough

A friend very recently raved about Kimbrough's playing, and I'm so thankful for the reminder. In addition to serving as the piano voice behind Maria Schneider's big band, Kimbrough explores more free improvisational contexts with imaginative results.

Eldar Djangirov

Eldar was a boy wonder. I still remember a high school friend playing an Eldar band camp recording from when he was roughly 12 years old, and Eldar sounded like Oscar Peterson. Incredible. Grown-up Eldar sounds much more Mehldau-esque and he's continuing to explore his own voice, so I look forward to his continual evolution as a player and composer.

Dan Tepfer

Whether he's blurring the lines between classical and jazz or spontaneously reharmonizing standards duo with Lee Konitz, Tepfer is a thoughtful musician.

Jean-Michel Pilc

Originally from Paris and now residing in New York, Pilc has a modern and harmonically adventurous conception.

Uri Caine

Caine has collaborated fruitfully with Dave Douglas on a number of eclectic projects, and his solo work is as abstract as it is compelling.

Kris Bowers

Winner of the most recent Monk piano competition, Bowers' debut release Heroes + Misfits is a genre-bending and hard driving affair that's a joy to listen to.

Michel Camilo

In addition to being a technical wizard, Michel has honored his Dominican roots since the mid-eighties to consistently play some of the best straightforward Latin jazz around.

John Cowherd

Brian Blade Fellowship pianist John Cowherd takes an active role in bringing life to Blade's musical concepts. And the results are stunning.

Paul Bley

Paul Bley is prolific, having maintained his importance as an astoundingly influential force in the improvised music scene since the 60s.

Ron Perrillo

Anybody who's spent time in Chicago knows of Perrillo's adventurous and often mesmerizing approach to playing the piano.

Joey DeFrancesco

Joey D can lay down bop lines for days on the B3.

Phil Markowitz

Markowitz has worked as a top sideman for decades, supporting everybody from Chet Baker to Dave Liebman and matching every style in between.

Rob Clearfield

A Chicago-based pianist working with bands ranging from the sensitive Matt Ulery's Loom to the far more raucous Hood Smoke, Rob is a gifted and creative keyboardist who always seems to find the right thing to play at the right time.

Kenny Werner

With a diverse stylistic range, Werner has produced a steady stream of solid work since the late seventies.

Harold Mabern

His comping pushes soloists to new heights, and Mabern's soloing is deserving of his status as a living post-bop legend.

Michael Kocour

I had the opportunity to study with Kocour for a year before he left Chicago to run the ASU jazz program out in Tempe AZ. Not only a gifted educator and one of the nicest people you'll ever come across, Kocour is also an engaging performer with great time and control on the piano.
---
I'm sure there are others who I've never heard, unintentionally omitted, or have not given a fair shake. That shouldn't diminish the importance and reverence owed to the ivory tickling of the wonderful musicians listed above.