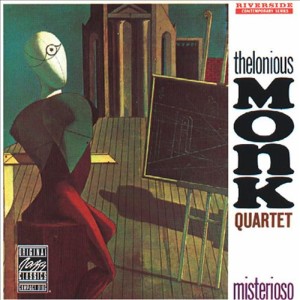 Following up my first post regarding bebop drum vocabulary, I thought it would be fun to present an incredibly tasty Roy Haynes transcription.  This particular solo is from Thelonious Monk's 1958 live album Misterioso, and features Thelonious on piano, Johnny Griffin on tenor sax, Ahmed Abdul-Malik on bass, and the incomparable Roy Haynes on drums.
There are several reasons that make this particular drum solo so enjoyable, both as a listener and as a student honing one's craft.
Of the two chorus solo, Roy devotes the entire first chorus to the melody.  "In Walked Bud" is a catchy and repetitive tune; perfect for developing rhythmic ideas around the kit.  Roy masterfully orchestrates the slight variations along the way, and provides a valuable lesson in the power of simplicity.
The second chorus opens up into more traditional bebop drum vocabulary.  There are plenty of wonderful ideas played here, from the thoughtful use of buzzes, stick-on-stick passages, and rimshots to create sonic variety, to the introduction of triplets and sixteenth notes as the chorus develops as a means of increasing tension.
Lastly, Roy maintains his usual sense of swagger.  That is to say, nothing is played in a careless, boring way.  Every musical phrase has a sense of urgency behind it!