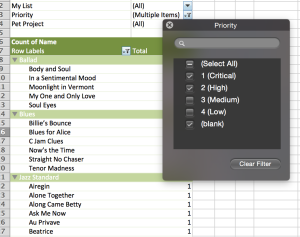 Tunes are our shared language. One of the most beautiful and unifying aspects of jazz is this common musical familiarity that enables any group of seasoned musicians to get together and immediately start making music. I'll cover the pros and cons of learning tunes as well as the right approach to building a solid base of tunes in your arsenal. At the end I give a list of tunes to learn, separated out by their importance based on the frequency with which they get called at sessions/gigs.
Note: If you're just looking for a tune list, scroll to the bottom.
Why Learn Tunes?
A few of the many reasons:
Part of being a jazz musician is being able to play over at least a handful of tunes. Some guys like Lee Konitz prefer to use the same set of a dozen tunes and explore improvisational approaches, others know thousands of tunes off the top of their head. It's up to you and your goals.
Some gigs require tune knowledge. Why limit your pool of gigs?
Different tunes require different tools. Learning to navigate myriad harmonic, rhythmic, and structural intricacies of various tunes makes you a more well rounded improviser and better musician.
Your compositional foundation comes from the tunes you have studied. You will use the melodies, forms, and harmonic standards should you choose to start composing (highly recommended!).
Put your listening into context. Once you know a tune, listening to a recording/show of somebody playing that tune becomes far more meaningful. You will be an engaged, active listener, and you will begin to understand the choices the improviser is making
---
The Dark Side of Tunes
Knowing a shared set of tunes can be a crutch. An unrehearsed group of guys gets on the bandstand, takes 10 minutes between songs trying to figure out a tune to play next, then eventually agrees on something everybody knows and doesn't consider too lame. We're all guilty of this from time to time. Not only does this come across as extremely unprofessional, but also consider that the portion of your audience that's not musicians is probably already a bit confused by jazz in the first place. Why further alienate them? Check out some of the veteran guys on the scene to learn how to play a pure tunes gig while still putting on a good show.
The Right Way to Learn a Tune
First, let's cover the wrong way: open a real book, read the tune down, memorize the names of the chords and the melody, and repeat/revisit until you remember it.
Here's a better approach: I'll try to do this in steps, but the sequence is less important than the exploratory spirit of the process:
Find a few seminal versions of the tune played by the masters and listen to them until you can sing along to the melody.
What key is it in? If you notice different versions are in different keys, find more recordings and figure out the most common key. Start with that one, then after you've learned the tune, go back and learn it in other common keys.
Learn the melody. It's helpful to have a few reference recordings to figure out what's the true melody and what's embellishment. Learning the lyrics (when they exist) is extremely valuable.
Figure out the form: is there a bridge? Are the phrases 8 bars long? Is there a tag? Refer to the melody for help.
Determine the harmony. When you get stuck, go to the piano and try to figure out the changes. Start with the bass note, then figure out the quality of the chord (major/minor/etc.), then fill in the colors (is it a C7 or really C7#11?).Map it out functionally using roman numerals (2 bars on I, then it's a ii-V to the IV, etc.).
If you're still stuck or not 100% sure of your findings, you can find a lead sheet in a real book or online to try to get a second opinion. Note that most of these sources have errors (except for Jamey Aebersold's lead sheets which are very high quality), so if you disagree about a change, you may be more correct than your source lead sheet.
Play the tune along with the recording, then a backing track if you have one), and finally with just a metronome.
Using this approach, you will find that you'll actually remember the tune, your ear will improve, and your freedom to improvise over the changes and remember the form will improve. Later you can try to learn the tune in all 12 keys if you're feeling ambitious.
Where Should I Start? 36 Tunes You Can't Avoid Learning
I get this question a lot. Disclaimer – I don't know thousands of tunes. But over the years I've tried to learn most of the tunes that get called frequently on gigs and sessions, added some that appear across multiple or important recordings, and rounded it out with tunes that I just like. I've been overwhelmed by long tune lists in the past, so started to make my own system to prioritize the tunes that are most important to learn. Here are 36 tunes that you just need to know if you want to play jazz. They're not the 36 easiest, and there's no significance to 36 other than that it seems like an approachable starting point.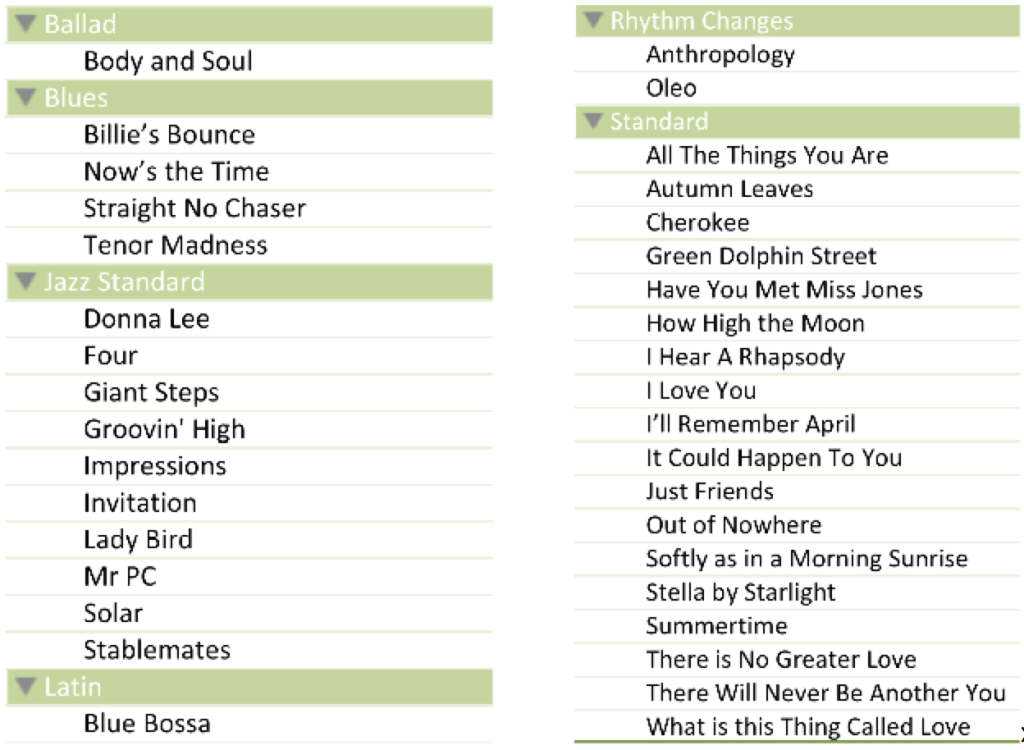 300 Tunes – Prioritized
Starting with the 36 critical tunes above, the below tune list and attached Excel workbook are the method I use to track my own progress as well as that of my students of tackling a list of 300 tunes I put together. Yes, I'm a huge Excel geek, but let's leave that alone for now. I honestly don't even know every one of these tunes, but I'd like to! I break my list into 4 sub-lists:
D-List: Don't Know – I don't know the tune
C-List: Familiar – I might be able to get by playing the tune on a gig, but I'll rely heavily on my ear.
B-List: Proficient – I know the tune pretty well, but I have to think a little bit.
A-List: Mastered – I know it cold, it's a part of me.
As I learn a tune, it starts in D, then moves from C to B to A as grow more comfortable. Download the workbook, clear out the "My List" column, and fill it in for yourself to track your own progress.
Excel Workbook: Tune List Tracker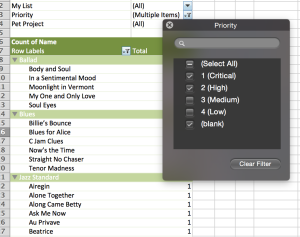 Note: Only edit the "Tunes" tab, and use it to keep track of your progress. The "Filter List" tab provides a summarized set of a specific attribute. For example, if you want to find your A and B-list critical and high priority tunes, filter for My List = A, B; Priority = 1 (Critical), 2 (High). Email me if you run into any issues.
Here's a copy of the list for reference. Happy tune learning!
#
Name
Type
Priority
1
All The Things You Are
Standard
1 (Critical)
2
Anthropology
Rhythm Changes
1 (Critical)
3
Autumn Leaves
Standard
1 (Critical)
4
Billie's Bounce
Blues
1 (Critical)
5
Blue Bossa
Latin
1 (Critical)
6
Body and Soul
Ballad
1 (Critical)
7
Cherokee
Standard
1 (Critical)
8
Donna Lee
Jazz Standard
1 (Critical)
9
Four
Jazz Standard
1 (Critical)
10
Giant Steps
Jazz Standard
1 (Critical)
11
Green Dolphin Street
Standard
1 (Critical)
12
Groovin' High
Jazz Standard
1 (Critical)
13
Have You Met Miss Jones
Standard
1 (Critical)
14
How High the Moon
Standard
1 (Critical)
15
I Hear A Rhapsody
Standard
1 (Critical)
16
I Love You
Standard
1 (Critical)
17
I'll Remember April
Standard
1 (Critical)
18
Impressions
Jazz Standard
1 (Critical)
19
Invitation
Jazz Standard
1 (Critical)
20
It Could Happen To You
Standard
1 (Critical)
21
Just Friends
Standard
1 (Critical)
22
Lady Bird
Jazz Standard
1 (Critical)
23
Mr PC
Jazz Standard
1 (Critical)
24
Now's the Time
Blues
1 (Critical)
25
Oleo
Rhythm Changes
1 (Critical)
26
Out of Nowhere
Standard
1 (Critical)
27
Softly as in a Morning Sunrise
Standard
1 (Critical)
28
Solar
Jazz Standard
1 (Critical)
29
Stablemates
Jazz Standard
1 (Critical)
30
Stella by Starlight
Standard
1 (Critical)
31
Straight No Chaser
Blues
1 (Critical)
32
Summertime
Standard
1 (Critical)
33
Tenor Madness
Blues
1 (Critical)
34
There is No Greater Love
Standard
1 (Critical)
35
There Will Never Be Another You
Standard
1 (Critical)
36

---

What is this Thing Called Love

---

Standard

---

1 (Critical)

---

37
Airegin
Jazz Standard
2 (High)
38
All of Me
Standard
2 (High)
39
Alone Together
Jazz Standard
2 (High)
40
Along Came Betty
Jazz Standard
2 (High)
41
Ask Me Now
Jazz Standard
2 (High)
42
Au Privave
Jazz Standard
2 (High)
43
Beatrice
Jazz Standard
2 (High)
44
Blues for Alice
Blues
2 (High)
45
Bolivia
Jazz Standard
2 (High)
46
Bye Bye Blackbird
Standard
2 (High)
47
C Jam Clues
Blues
2 (High)
48
Caravan
Jazz Standard
2 (High)
49
Confirmation
Jazz Standard
2 (High)
50
Days of Wine and Roses
Standard
2 (High)
51
Dolphin Dance
Jazz Standard
2 (High)
52
Don't Get Around Much Anymore
Standard
2 (High)
53
East of the Sun
Standard
2 (High)
54
In a Sentimental Mood
Ballad
2 (High)
55
In Your Own Sweet Way
Standard
2 (High)
56
Inner Urge
Jazz Standard
2 (High)
57
Isfahan
Standard
2 (High)
58
Joy Spring
Jazz Standard
2 (High)
59
Lazy Bird
Jazz Standard
2 (High)
60
Like Someone in Love
Standard
2 (High)
61
Milestones (new)
Jazz Standard
2 (High)
62
Minority
Jazz Standard
2 (High)
63
Moment's Notice
Jazz Standard
2 (High)
64
Moonlight in Vermont
Ballad
2 (High)
65
My One and Only Love
Ballad
2 (High)
66
Nardis
Jazz Standard
2 (High)
67
Nica's Dream
Latin
2 (High)
68
Night and Day
Standard
2 (High)
69
One Finger Snap
Jazz Standard
2 (High)
70
Pent-up House
Jazz Standard
2 (High)
71
Recordame
Latin
2 (High)
72
Rhythm-a-Ning
Rhythm Changes
2 (High)
73
Round Midnight
Jazz Standard
2 (High)
74
Scrapple from the Apple
Jazz Standard
2 (High)
75
Serenity
Jazz Standard
2 (High)
76
Seven Steps to Heaven
Jazz Standard
2 (High)
77
Soul Eyes
Ballad
2 (High)
78
Star Eyes
Jazz Standard
2 (High)
79
Take the "A" Train
Jazz Standard
2 (High)
80
The Song is You
Standard
2 (High)
81
The Theme
Rhythm Changes
2 (High)
82
This I Dig of You
Jazz Standard
2 (High)
83
Tune-Up
Jazz Standard
2 (High)
84
UMMG
Jazz Standard
2 (High)
85
Without a Song
Standard
2 (High)
86
Yardbird Suite
Jazz Standard
2 (High)
87
Yes or No
Jazz Standard
2 (High)
88

---

You Stepped Out of a Dream

---

Standard

---

2 (High)

---

89
26-2
Jazz Standard
3 (Medium)
90
A Night in Tunisia
Jazz Standard
3 (Medium)
91
All Blues
Jazz Standard
3 (Medium)
92
All of You
Standard
3 (Medium)
93
Angel Eyes
Standard
3 (Medium)
94
Autumn in New York
Standard
3 (Medium)
95
Beautiful Love
Standard
3 (Medium)
96
Bemsha Swing
Jazz Standard
3 (Medium)
97
Black Narcissus
Jazz Standard
3 (Medium)
98
Black Nile
Jazz Standard
3 (Medium)
99
Black Orpheus
Latin
3 (Medium)
100
Blue Monk
Jazz Standard
3 (Medium)
101
But Beautiful
Standard
3 (Medium)
102
But Not for Me
Standard
3 (Medium)
103
Ceora
Latin
3 (Medium)
104
Cheryl
Blues
3 (Medium)
105
Come Rain or Come Shine
Standard
3 (Medium)
106
Con Alma
Latin
3 (Medium)
107
Corcovado (Quiet Nights)
Latin
3 (Medium)
108
Countdown
Jazz Standard
3 (Medium)
109
Criss Cross
Jazz Standard
3 (Medium)
110
Daahound
Jazz Standard
3 (Medium)
111
Desafinado
Latin
3 (Medium)
112
Doxy
Jazz Standard
3 (Medium)
113
Easy to Love
Standard
3 (Medium)
114
Embraceable You
Ballad
3 (Medium)
115
Epistrophy
Jazz Standard
3 (Medium)
116
Equinox
Blues
3 (Medium)
117
ESP
Jazz Standard
3 (Medium)
118
Everything Happens to Me
Ballad
3 (Medium)
119
Evidence
Jazz Standard
3 (Medium)
120
Falling Grace
Jazz Standard
3 (Medium)
121
Fee-Fi-Fo-Fum
Jazz Standard
3 (Medium)
122
Footprints
Jazz Standard
3 (Medium)
123
For All We Know
Ballad
3 (Medium)
124
Four In One
Jazz Standard
3 (Medium)
125
Freddie Freeloader
Jazz Standard
3 (Medium)
126
Freedom Jazz Dance
Jazz Standard
3 (Medium)
127
Good Bait
Jazz Standard
3 (Medium)
128
Goodbye Pork Pie
Ballad
3 (Medium)
129
Green Chimneys
Jazz Standard
3 (Medium)
130
Half Nelson
Jazz Standard
3 (Medium)
131
Hot House
Jazz Standard
3 (Medium)
132
How Deep is the Ocean
Standard
3 (Medium)
133
I Can't Get Started
Ballad
3 (Medium)
134
I Could Write a Book
Standard
3 (Medium)
135
I Got Rhythm
Standard
3 (Medium)
136
I Mean You
Jazz Standard
3 (Medium)
137
I Remember Clifford
Ballad
3 (Medium)
138
I Remember You
Standard
3 (Medium)
139
I Should Care
Standard
3 (Medium)
140
I Thought about You
Ballad
3 (Medium)
141
If I Were a Bell
Standard
3 (Medium)
142
In Walked Bud
Jazz Standard
3 (Medium)
143
Indiana
Standard
3 (Medium)
144
Infant Eyes
Standard
3 (Medium)
145
Isotope
Jazz Standard
3 (Medium)
146
It I Should Lose You
Standard
3 (Medium)
147
It's You or No One
Standard
3 (Medium)
148
Jordu
Jazz Standard
3 (Medium)
149
Just in Time
Standard
3 (Medium)
150
Just One of those Things
Standard
3 (Medium)
151
Killer Joe
Jazz Standard
3 (Medium)
152
Laura
Ballad
3 (Medium)
153
Let's Cool One
Jazz Standard
3 (Medium)
154
Little Sunflower
Jazz Standard
3 (Medium)
155
Love for Sale
Standard
3 (Medium)
156
Lullaby of Birdland
Standard
3 (Medium)
157
Lush Life
Ballad
3 (Medium)
158
Maiden Voyage
Jazz Standard
3 (Medium)
159
Milestones (Miles)
Jazz Standard
3 (Medium)
160
Misty
Ballad
3 (Medium)
161
Monk's Dream
Jazz Standard
3 (Medium)
162
Monk's Mood
Jazz Standard
3 (Medium)
163
My Foolish Heart
Ballad
3 (Medium)
164
My Funny Valentine
Ballad
3 (Medium)
165
My Shining Hour
Standard
3 (Medium)
166
My Ship
Ballad
3 (Medium)
167
Nefertiti
Jazz Standard
3 (Medium)
168
Night Dreamer
Jazz Standard
3 (Medium)
169
Old Folks
Ballad
3 (Medium)
170
One Note Samba
Latin
3 (Medium)
171
Ornithology
Jazz Standard
3 (Medium)
172
Peace
Ballad
3 (Medium)
173
Pensativa
Jazz Standard
3 (Medium)
174
Perdido
Standard
3 (Medium)
175
Polka dots and Moonbeams
Ballad
3 (Medium)
176
Prelude to a Kiss
Ballad
3 (Medium)
177
Ruby My Dear
Ballad
3 (Medium)
178
Salt Peanuts
Rhythm Changes
3 (Medium)
179
Sandu
Blues
3 (Medium)
180
Satin Doll
Standard
3 (Medium)
181
Secret Love
Standard
3 (Medium)
182
Skylark
Ballad
3 (Medium)
183
So What
Jazz Standard
3 (Medium)
184
Someday my Prince will Come
Standard
3 (Medium)
185
Song For My Father
Latin
3 (Medium)
186
Sonnymoon for Two
Blues
3 (Medium)
187
Speak Low
Standard
3 (Medium)
188
Speak No Evil
Jazz Standard
3 (Medium)
189
St. Thomas
Latin
3 (Medium)
190
Steeplechase
Rhythm Changes
3 (Medium)
191
Stompin' at the Savoy
Standard
3 (Medium)
192
Sweet Georgia Brown
Standard
3 (Medium)
193
Tenderly
Standard
3 (Medium)
194
The Girl From Ipanema
Latin
3 (Medium)
195
The Jitterbug Waltz
Standard
3 (Medium)
196
The Night Has 1000 Eyes
Standard
3 (Medium)
197
The Shadow of your Smile
Latin
3 (Medium)
198
The Way you Look Tonight
Standard
3 (Medium)
199
These Foolish Things
Standard
3 (Medium)
200
Think of One
Jazz Standard
3 (Medium)
201
Up Jumped Spring
Standard
3 (Medium)
202
Walkin'
Blues
3 (Medium)
203
Watermelon Man
Funk
3 (Medium)
204
Wave
Latin
3 (Medium)
205
Well, you Needn't
Jazz Standard
3 (Medium)
206
What's New?
Ballad
3 (Medium)
207
Whisper Not
Jazz Standard
3 (Medium)
208
Wild Flower
Ballad
3 (Medium)
209
Windows
Jazz Standard
3 (Medium)
210
Witch Hunt
Jazz Standard
3 (Medium)
211
Witchcraft
Standard
3 (Medium)
212
Woody 'n You
Jazz Standard
3 (Medium)
213
Yesterdays
Ballad
3 (Medium)
214

---

You Don't Know What Love Is

---

Ballad

---

3 (Medium)

---

215
A Child is Born
Standard
4 (Low)
216
A Day in the Life of a Fool
Standard
4 (Low)
217
Afternoon in Paris
Standard
4 (Low)
218
Ah-Leu-Cha
Jazz Standard
4 (Low)
219
Alice in Wonderland
Standard
4 (Low)
220
All God's Chillun
Jazz Standard
4 (Low)
221
April in Paris
Standard
4 (Low)
222
Bag's Groove
Jazz Standard
4 (Low)
223
Bernie's Tune
Jazz Standard
4 (Low)
224
Bessie's Blues
Blues
4 (Low)
225
Blue in Green
Jazz Standard
4 (Low)
226
Bluesette
Jazz Standard
4 (Low)
227
Chelsea Bridge
Jazz Standard
4 (Low)
228
Conception
Jazz Standard
4 (Low)
229
Cousin Mary
Jazz Standard
4 (Low)
230
CTA
Jazz Standard
4 (Low)
231
Dearly Beloved
Ballad
4 (Low)
232
Dig
Jazz Standard
4 (Low)
233
Don't Blame Me
Ballad
4 (Low)
234
Easy Living
Ballad
4 (Low)
235
El Gaucho
Jazz Standard
4 (Low)
236
Emily
Ballad
4 (Low)
237
End of a Love Affair
Standard
4 (Low)
238
Georgia On My Mind
Standard
4 (Low)
239
Gone with the Wind
Standard
4 (Low)
240
Hackensack
Jazz Standard
4 (Low)
241
Here's That Rainy Day
Standard
4 (Low)
242
Hi-Fly
Jazz Standard
4 (Low)
243
How Insensitive
Latin
4 (Low)
244
I Didn't Know What Time it Was
Standard
4 (Low)
245
I Fall in Love too Easily
Ballad
4 (Low)
246
I Got it Bad and that ain't Good
Standard
4 (Low)
247
I Want to Talk about You
Ballad
4 (Low)
248
I'll Take Romance
Standard
4 (Low)
249
I'm Old Fashioned
Ballad
4 (Low)
250
I've Grown Accustomed to Her Face
Ballad
4 (Low)
251
If You Could See Me Now
Ballad
4 (Low)
252
In A Mellowtone
Standard
4 (Low)
253
Israel
Jazz Standard
4 (Low)
254
It Don't Mean a Thing
Standard
4 (Low)
255
It Might As Well Be Spring
Standard
4 (Low)
256
It's All Right with Me
Standard
4 (Low)
257
Joshua
Jazz Standard
4 (Low)
258
Juju
Jazz Standard
4 (Low)
259
Lament
Ballad
4 (Low)
260
Lester Leaps In
Rhythm Changes
4 (Low)
261
Litha
Jazz Standard
4 (Low)
262
Long Ago and Far Away
Standard
4 (Low)
263
Love Walked In
Standard
4 (Low)
264
Lover
Standard
4 (Low)
265
Lover Come Back to Me
Standard
4 (Low)
266
Loverman
Ballad
4 (Low)
267
Mack the Knife
Standard
4 (Low)
268
Mahjong
Jazz Standard
4 (Low)
269
Manteca
Latin
4 (Low)
270
Meditation
Latin
4 (Low)
271
Misterioso
Blues
4 (Low)
272
Monk's Mood
Jazz Standard
4 (Low)
273
Mr Clean
Funk
4 (Low)
274
My Romance
Standard
4 (Low)
275
Naima
Ballad
4 (Low)
276
On the Sunny Side of the Street
Standard
4 (Low)
277
Once I Loved
Latin
4 (Low)
278
Our Delight
Jazz Standard
4 (Low)
279
Our Love is Here to Stay
Standard
4 (Low)
280
Over the Rainbow
Standard
4 (Low)
281
Passion Dance
Jazz Standard
4 (Low)
282
Satellite
Jazz Standard
4 (Low)
283
Smoke Gets in your Eyes
Ballad
4 (Low)
284
Some Other Blues
Blues
4 (Low)
285
Someone to Watch Over Me
Ballad
4 (Low)
286
Sophisticated Lady
Ballad
4 (Low)
287
Spring Can Really Hang You Up
Ballad
4 (Low)
288
Spring is Here
Standard
4 (Low)
289
Stardust
Standard
4 (Low)
290
Sugar
Blues
4 (Low)
291
Tangerine
Standard
4 (Low)
292
The Duke
Standard
4 (Low)
293
Things ain't what they used to Be
Blues
4 (Low)
294
Triste
Latin
4 (Low)
295
Unit Seven
Blues
4 (Low)
296
Valse Hot
Jazz Standard
4 (Low)
297
When I Fall in Love
Ballad
4 (Low)
298
When Lights are Low
Ballad
4 (Low)
299
When Sunny Gets Blue
Ballad
4 (Low)
300
You're a Weaver of Dreams
Standard
4 (Low)